Search Kitchenzing:
STYLE
MATERIAL
MILL TYPE
Buy with any credit card using PayPal - the world's most secure payment processor. No PayPal account required. Full credit card privacy.
#10
Dry Martini
The dry martini was originally a mixture of 3 oz. gin or vodka and 1 oz dry vermouth. Today, many prefer their martinis very dry, with 1/2 oz or even just a few drops of vermouth. It's all a matter of taste. To make a martini, use a cocktail shaker or cocktail stirrers to mix the ingredients with plenty of ice and strain into a martini glass.
For colder, stronger martinis, store gin or vodka and glasses in the freezer. Garnish with an olive on a cocktail pick or a twist of lemon rubbed on the rim of the glass and dropped in the drink. To make a "Gibson" garnish with a cocktail onion. Stirred martinis were the rule until James Bond said "Shake, never stir." Try both methods and decide for yourself.


#9
Cosmopolitan
The Cosmopolitan, or "Cosmo", has become so popular it's probably in third place by now. It has four key ingredients: (1) 2 oz. vodka; (2) 1 oz. Cointreau or other orange liqueur; (3) 1 oz. cranberry juice; (4) 1/2 oz. lime juice. Shake ingredients with ice and use a cocktail strainer to pour into a large cocktail glass. Garnish with a twist of lime. (Certain hosts have been known to coat the glass rim with a mixture of sugar and grated orange peel. If you find this pretentious, skip it!).


#8
Bloody Mary
The Bloody Mary begins with 2 oz. vodka, 6 oz. tomato juice and 2 oz. lemon juice. After that you "spice it up" to suit your taste. A couple of dashes of Worcestershire sauce is safe enough, but go easy with the Tabasco. (Some like it hot, some not).
Other additives commonly used are ground pepper, celery salt, and horse radish. Be inventive. Shake your invention with ice and strain into a ample glass. A celery stalk is the optional garnish.


#7
Margarita
The Margarita is a tequila cocktail that lets you take a Mexican vacation in your own home! Shake 1 1/2 oz. tequila, 1 oz. Cointreau or triple sec and 1 oz. fresh lime juice with ice. Strain into a chilled cocktail glass.
To make a frozen margarita, mix the ingredients in a blender. Salting the margarita glass is an optional Mexican ritual: rub the glass rim with a wedge of lime in a saucer or fine salt.


#6
Daiquiri
The Daiquiri emigrated from Cuba in Teddy Roosevelt's day and soon became a favorite in the US - especially in summer. Shake 1 1/2 oz. light rum, 1 oz. fresh lime juice and a teaspoon of sugar or corn syrup with ice. Strain into a cocktail glass, garnish with a wedge of lime on the rim of the glass. Then charge up San Juan Hill!


#5
Screwdriver
The Screwdriver does not have to be stirred with a screwdriver, but legend has it that its inventor did just that. And the drink's quirky moniker lives on. Stir 2 oz. vodka with 5 oz. orange juice and pour into a tall, ice-filled glass. A screwdriver is much smoother than its name.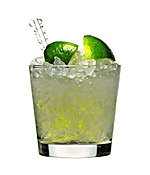 #4
Gimlet
The Gimlet can be made with gin or vodka but the lime juice in the drink should always be "Rose's".
Stir 1 1/2 oz. Rose's Lime Juice and 2 oz. gin or vodka with ice. Add a wedge of fresh lime and strain into a cocktail glass. To serve on the rocks, pour with ice into an old-fashioned glass. One sip and "everything's coming up Rose's"!


#3
Whiskey Sour
The Whiskey Sour is most often prepared with bourbon, but can also be made with brandy, scotch, or Canadian or Irish whiskey.
Shake 1 1/2 oz. of the spirit of your choice, 1 1/2 oz. fresh-squeezed lemon juice, and a tablespoon of sugar or corn syrup with ice. Strain into a sour glass. Garnish with a maraschino cherry. (HINT: if you want to be known as a champion sour maker add the white of an egg).


#2
Old-Fashioned
The Old-Fashioned was called that when it was invented by a Kentucky Bourbon distiller in 1900. By now it really is Old-Fashioned! First, place a sugar cube in the bottom of an old-fashioned glass and saturate it with Angostura bitters. Then pour in enough club soda to cover the cube. Crush it with the back of your bar spoon. Add 2 oz. bourbon and more ice, then stir.
Garnish with a slice of orange and a maraschino cherry. Add a twist of lemon in the drink, then sit back and pretend you're at the Kentucky Derby!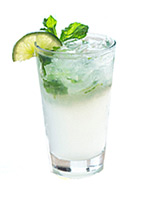 #1 (Drumroll Please!)
Mojito
The Mojito (pronouced "mo-hee-toe") is a classic rum-based cocktail that originated in Cuba. It has gained renewed popularity with the advent of flavored vodkas, which now often replace rum in the drink.
Whatever liquor is used, a mojito starts with an ounce of fresh lime juice, a teaspoon of brown sugar and 4 or 5 leaves of fresh mint in a large rocks or highball glass. Crush the mint leaves with a muddler to release the mint essence.
To make the classic mojito add 2 oz. of light rum, fill the glass with crushed ice and top with club soda. Garnish with a lime wedge and sprig of mint. To make a Citrus Mojito use citrus-flavored vodka instead of rum; for a Raspberry Mojio use raspberry-flavored vodka. Other variations can be made with currant, vanilla and blackberry-flavored vodkas. And as vodka makers bring out new flavors, there will be even more mojitos to try - ole!
---
Call Toll-Free
1-866-980-5050 (Mon-Sat/9a-9p)